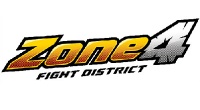 Are you looking for a free-to-play MMO where you can just wail on someone mercilessly? Am I being sarcastic? Not a chance. This FTPMMO is a 3D smack down just waiting for you! So join me now as we dive into a world of street fights where gangs and thugs wage war in an effort to be the best and defend their reputation. Is this fighting MMO worth a chance? Let's find out.
Both developed and published by OGPlanet, Zone 4: Fight District was released in the summer of 2010 to eager gamers. You'll remember OGPlanet when you hear the titles Rumble Fighter and Lost Saga. While Rumble Fighter and Lost Saga are also fighting MMOs, Z4 brings something new and fresh to OGPlanet's portfolio.
Getting Into the Zone
So, I'm sure you're wondering what you're getting yourself into with all this talk of gangs and thugs. What comes to mind when I say the phrase kill shot? I'm just kidding! Z4 offers various styles of martial arts for you to master. There are no guns, only action packed street fighting!
Zone4: Fight District is essentially classic arcade style fighter meets complex modern brawler. It's a great mix of old school gaming combined with the fast-paced action of a modern MMO. Now, I'm a big fan of quality graphics. While the graphics don't necessarily make or break a game for me, it definitely affects my opinion of the game itself. The graphics in this FTPMMO aren't cutting edge. However, the more realistic style of animation used in Z4 really makes up for the so-so graphics.
Express Yourself
When it's time to create your character, you will be given 6 characters to choose from; 3 male and 3 female characters. All 6 characters are a different age and have a unique appearance. You can also select the tone of your character's skin. When dressing your character, you are able to choose your characters' shirt, pants, shoes, and hair style—each have 3 options. As I'm sure you've already realized Z4's character creation does leave a bit to be desired. And quite frankly, the esthetic options are yawn producing. But if you're patient, there are a wide variety of clothes, hair styles, and even accessories which are made available throughout gameplay.
Next you'll face one of the most important decisions you will ever make in this MM. Do you want your character to be a Rush fighter or a Street fighter? Let me break it down for you:
Rush fighters- can master Hapgido, Wrestling, or Judo. Rush fighters are hold attack specialists.
Street fighters- can master Boxing, Muay Thai, and Tae Kwon Do. Their specialization is crushing attacks.
Something to keep in mind is that each gamer account comes with 2 free character slots per server. This will give you the opportunity to play around with both the Rush and Street fighters… So maybe I got a bit too excited when I used the words "most important decisions".
To Tutorial or Not To Tutorial?
Zone 4 comes complete with an optional tutorial. This option almost always brings up the age old question, should I complete the tutorial? Yes, you should complete the tutorial because it is worth your time…And it is rewarding! Completion of the Z4 tutorial will net you Zen—which is the in-game currency—as well as experience. If you chose to skip the tutorial and later decide that you want to complete it, you're in luck! You can return to the tutorial at any time.
This tutorial will walk you through the game controls which are actually quite straight forward and easy to learn. It has been said that Zone 4 is the FTPMMO that is easy to play but difficult to master. That statement couldn't be any more spot on!
YOU ARE IN CONTROL
When playing Zone 4, you will spend the majority of your time utilizing the keyboard. In fact, all aspects of gameplay are keyboard controlled. For example, to control movement, you will use the arrow keypad. Again, the controls are very simple and straight forward. During the tutorial you will learn the standard attacks followed by the special attacks. Next you'll be instructed on how to carry out an attack on multiple foes simultaneously using the double attack. You will also be taught how to join with an ally to gang up on your opponent. Your last task while in the tutorial is to fight a practice round with the AI controlled "Speak Man" as your opponent. If you completed the tutorial as a new character, you will have arrived at level 3.
In The Zone
Zone 4's virtual world is composed of multiple districts. Each district consists of more than a dozen channels. Both the districts and channels are persistent environments and players are at liberty to move freely between them. You will also run across various storage boxes, merchants, slot machines, and ranking boards, among others things and they are interactive. The persistent environments are where you will have access to the instanced cooperative "arcades" as well as the PvP arena.
It has been my experience that Z4 gamers prefer the team matches over the 1v1 matches. This can be seen as both an advantage and a disadvantage to any new Z4 players. The team matches offer a newbie the opportunity to adjust to gameplay as teammates serve as a buffer. The disadvantage is that you may be targeted by experienced gamers and taken down before you have a chance to react. Fortunately the respawn wait time is only a few seconds.
One thing that I did notice while in these rooms was the obvious level imbalance. While the host has the option to adjust the match settings to auto-balance, that feature seems virtually pointless in my opinion. The higher level players still have the upper hand and this has the potential to make a match extremely frustrating. If you've experience that before (most gamers have) you know exactly what I mean.
Modes a Plenty
Zone 4 has a remarkable variety of modes. Those include:
Free-For-All Deathmatch & Team Deathmatch- These modes allow players to compete individually or as teams with the object being to accumulate the most kills within a set portion of time. In this mode, players will respawn after a short wait.
Survival- Survival mode is just that, a player or team of players fighting to survive—to be the last man standing. The options are given in each room as to whether equipment and/or items will be allowed. This decision is made by the room host.
Challenge- In this mode, there are 50 stages through which you must fight to dominate the Zone. The object of this mode is to see how far you can go as you fight thugs, various enemies, and even bosses. Your hard work will be rewarded in high scores, prizes, and achievements.
Item- Item mode is where you can fight AI controlled foes or rival players. You will be given various items and power-ups which are randomly generated.
Arcade Story- In the Arcade Story mode you can fight alone or with up to 4 players. You will face hordes of enemies in new stories, levels, and episodes which OGPlanet adds monthly through content updates.
Turf War- This mode is the ultimate street fight where your rep is at stake. Guilds of up to 16vs16 go toe-to-toe to defend their turf. In a Turf War, you either go big or go home.
The Final Word
Zone 4 is most assuredly still a work in progress. The English translations are a bit rough and the gameplay can seem a bit repetitive. I also noted that the special attacks seemed a bit overpowering which created an imbalance that I believe should be resolved.
While I mentioned my thoughts on the graphics earlier, I still like the animation and the urban ambience. I can see both Zone 4's weaknesses and strong suits. However, I believe that it will continue to draw a diverse following of gamers who prefer FTP fighters as well as those online gamers who favor more of a classic arcade semblance.
Ultimately I think that Z4's strengths outweigh any of its weaknesses. From the wide variety of fighting styles to the incredible 16vs16 Turf Wars, Zone 4 is definitely a FTPMMO that you don't want to miss out on! I give Zone 4: Fight District a 5. So until next time, game on!