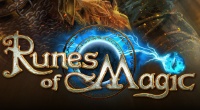 Patch 3.0.5 — The Guardian's Awakening brings new content to Runes of Magic, where, starting today, adventurers have access to the new world boss Amboriar. The anticipated new difficulty levels for the dungeon -Rakasha Temple- are also now available.
Previously, the group instance was available in two different difficulty levels for players level 58 and up: Now, adventurers playing on normal mode can choose between five additional difficulty levels. Opponent values are higher in the new modes — ranging from 25% stronger in bronze mode all the way up to 125% in diamond mode. The difficulty level selected also affects the loot acquired by groups consisting of six players.
To face Amboriar however, a full group is not enough. Trouble is stirring in a remote mountain valley in Southern Janost Forest, and it will take a brave and well-equipped raid to vanquish the mighty and corrupt guardian who lurks there.